Commercial 40 Watt Indoor Bug Zapper- Secta Zapp  SZ-40
Secta Zap SZ-40 Commercial Indoor Bug Zapper is designed with utility and cost in mind. The mat aluminium finish means this bug zapper will easily blend into most rooms, but most important is this zappers fresh design which provides a double sided surface area and a quick, easy installation.   The commercial bug zapper is powered from a strong 2500V indoor transformer and attracts insects with 2 x 20W UV BL Lamps.
Compact and portable
Aluminium construction
40 watts – 2 x 20 watt UV globes
Coverage 120 square metres
Translucent plastic guard, MAX light
2500 Volt high kill transformer
Removable catch tray
Indoor use only
Suitable for Indoor use in shops, warehouse, hallways etc
Operation: Best operated 24/7 or on an auto timer programmed for dusk to dawn operation
Installation: Suspend (hanging chain included), wall mount or bench mount
Dimensions: 648mm x 404mm x 113mm (L x H x D)
Applications: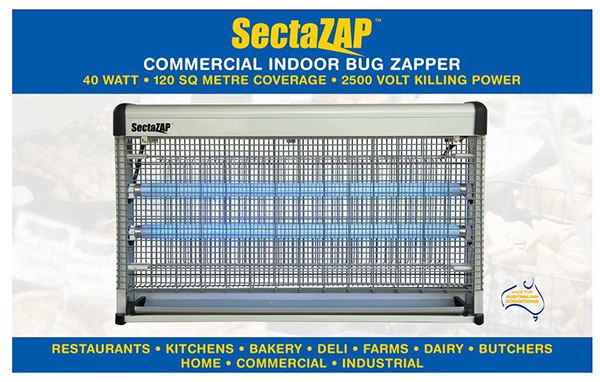 Farms
Dairy
Meat/Food Factories
Industrial
Warehouse docks
Schools
Manufacturing
Available through Bunnings Special Orders

Sure, we are here to help!
Proudly supplying the following retailers